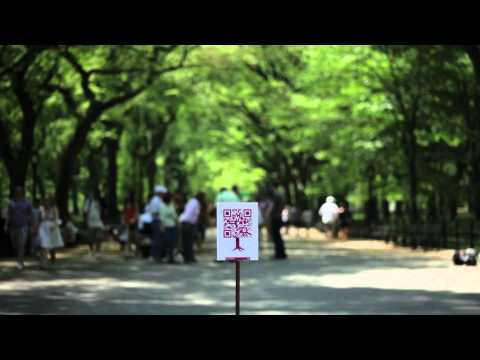 Effective communications have always relied on the 'right time, right place' factor. So if you're a well known 'outside' venue, how do you deliver timely and relevant messages that will connect with a new 'digitally enhanced' audience?
Well, you use to power of locational based mobile action to add to the physical experience.
Central Park – New York City, was looking to engage a younger, more 'wired' audience. The result was The World Park Campaign, an event based, locational centered information and game play digital experience.
The World Park uses strategically placed QR codes to create a mobile interactive experience that engages its audience and raises awareness for the city parks. Once the codes are scanned, by enabled smart phone, the 'park goer' is transported into amazing digital experience that details the parks rich history, its geology and its use in numerous Hollywood blockbusters.
Adding to the information rich experience, an element of game play keeps the user exploring every meter of the venue's open spaces, encouraging longer stays and repeat visits.
It's a great idea – connecting people with parks. And just goes to show that if you really want to get people out into the fresh open air, stretching their legs and enjoying the physical, you've got to make it fully digital.